Fashion
10 Different Styles of Indian Dresses
Indian dresses are loved and adored by all. A woman in a traditional Indian dress looks modern and stylish. No other dresses can beat the beauty of Indian dresses. Their unique and intricate design gives a different charm to the look of a woman. Salwar suits, Anarkali suits, lehengas and sarees are some of the different styles of ethnic dresses that are widely famous among Indian women. Be it a wedding or an Indian festival, a woman in an Indian attire looks royal and sophisticated.
In this article we will be looking at some of the most famous Indian dresses that are worn by Indian women on different occasions. Not only that, we will also be focusing on some of the traditional Indian attires originated from different parts of India but have marked their presence all across the world. Indian outfit is an epitome of tradition and culture with a tinge of modernity mixed in it. If you are someone who wants to look regal and classy in a function or a festival, do opt for Indian attires this time. You will never get disappointed with it.
Now let us look at 10 different styles of Indian attires that you should have in your wardrobe.
1. Traditional Sarees
When there is a discussion of Indian dresses, saree is one of those Indian attires that comes to our mind first. After all, this attire itself is graceful and when worn by a woman, she just looks heavenly and sophisticated. Sarees are of two types- traditional sarees and designer sarees. Let us first look at some of the traditional sarees that have emerged from different Indian regions and cultures but are famous all across the world.
Katki saree and Sambalpuri saree– Originated from the state of Odisha, Katki and Sambalpuri sarees represent the Odia culture and tradition. Both the sarees show the cultural aspects of Odia people and their divine connection to Lord Jaggannath. Katki saree is also known as Khandua saree. This particular saree is woven in wooden looms. The fabric used is pure cotton and traditional silk thread is used to weave on it. The motifs represent the culture of Odisha. The motifs generally used are- the image of Lord Buddha, peacocks, flowers, elephants and so on. Katki saree is mostly found in the colours of red, orange and yellow. You will find many Oddssi dancers wearing this saree while performing on stage.
Sambalpuri saree, on the other hand, is handwoven. It involves tie-dyed methods and weaving. It is woven in silk and cotton fabric. The motifs generally involve shell, wheel and flower in the colour of red, white and black which is the colour of Lord Jaggannath (believed to be an incarnation of Lord Vishnu).
Both the sarees, when worn, give a regal and decent look to a woman. Both sarees are meant for both casual wear and for special occasions.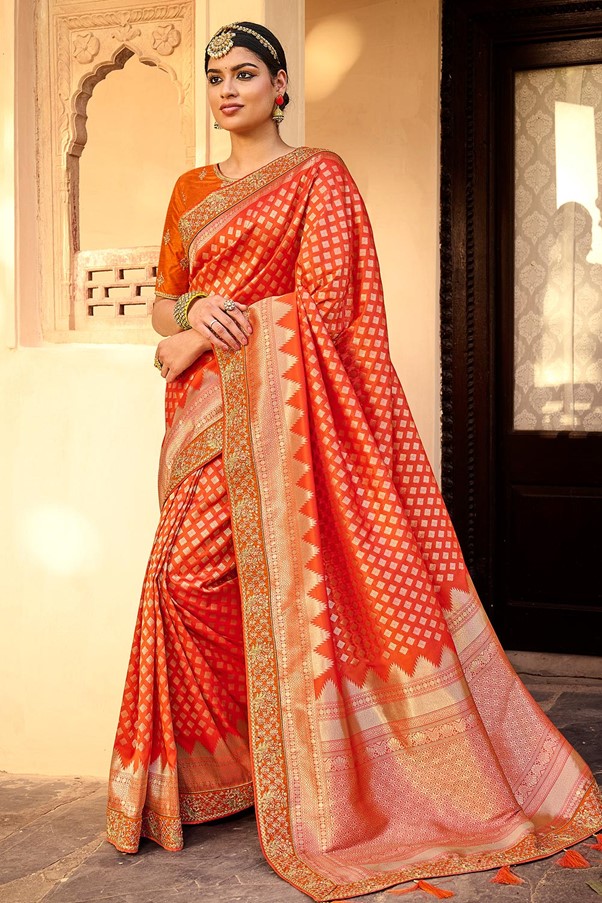 Banarasi Silk sarees- Just like Katki and Sambalpuri sarees, Banarasi silk saree is an epitome of beauty and grace. It represents the culture and tradition of Varanasi (UP), one of the most famous Holy places in India. It is handwoven on a silk fabric. Various complicated and intricate designs are made on the fabric, that gives a stunning look to the saree. These exotic designs are made with the help of gold and silver threads. The motifs generally include human figures, birds, animals , flowers and geometric patterns. Because of being heavily embellished, these sarees are mostly preferred by brides for their D-day.
Baluchari Silk sarees– Another beautiful gem in the world of Indian fashion, this saree is the cultural representation of West Bengal. This saree is mainly famous for the designs in the pallu. The design consists of the mythological events and scenes and it is this design that makes this saree unique. The motifs generally include birds, animals and other flora and fauna.
Kanjeevaram Silk sarees– It is an authentic and the most famous Indian attire worn mostly by the women of Karnataka. The motifs generally include the image of temples, floral buttas and sometimes stripes. The pallus and borders are designed separately and joined together. Many bollywood celebrities and famous people are generally seen wearing this saree on special occasions.
2. Designer Sarees
Just as traditional sarees, designer sarees are also one of the most famous Indian dresses. These sarees are an amalgamation of tradition and modernity. They incline more towards the contemporary motifs and styles. A designer saree gives a royal and classy look to a woman. These sarees are preferred mostly in cocktail parties, reception parties and other special occasions with contemporary themes. These days pastel coloured designer sarees are on trend. However, bold colours like red, maroon, wine, burgundy and purple are also some of the most widely used colours for designer sarees. Just have a look at some of these sarees-
3. Pherans
Pherans are traditional Indian dresses. They are the traditional dresses of women of Jammu and Kashmir. This dress comes in two variations- one worn by the Hindu woman of Jammu and Kashmir and the other worn by the Muslim woman of Jammu and Kashmir. The main difference is there in the sleeves. Pherans worn by Hindu women consists of narrow sleeves and the one worn by the Muslim women consists of broad sleeves which is of knee length.
4. Anarkali Suits
Anarkali suits are another important Indian outfit worn by women on different occasions. Most importantly, they do not go out of trend and can be used multiple times. They are sustainable in nature and give a regal and sophisticated look to a woman. They come in different colours, styles, designs and fabrics. The design is either simple and minimalist or heavily embellished. Look at some of the beautiful and classy Anarkali suits–
5. Salwar Suits
It is one of the most famous Indian outfits originating from the state of Punjab. Earlier worn mostly by the women of Punjab, today it is worn in almost every part of India. It is an ensemble of a kurti/kameez, loose pants with vertical flares and a pair of drawstring and a dupatta. It can be worn both casually and at parties. The party wear salwar suits are heavily embellished. It is simple, comfortable and easy to wear.
6. Sharara Suits
Sharara suits give a royal look to a woman. Mostly worn in a party or a special occasion, this Indian attire is heavily embellished and gives an all dolled up look. A woman in a sharara suit looks sophisticated and majestic. It is imperative, sustainable and can be worn on multiple occasions. Here are some of the images of sharara suits–
7. Lehenga Choli
Another most preferred Indian attire for special occasions, Lehenga choli makes a woman look royal and heavenly. It has both a traditional version and a contemporary version. It is an ensemble of a blouse/choli, an ethnic skirt and a dupatta. It is either heavily embellished or is simple with minimal work. The contemporary version consists of ruffles and flares to give you a modern and artistic look.
8. Chaniya Choli
Preferred for the festival of Navratri, chaniya choli is worn mostly by the Gujarati women. It is heavily embellished, mostly heavy embroidery works are done on the fabric. The dupatta is worn as a veil. These attires come in bold and vibrant colours.
9. Ethnic Skirts
Indian ethnic skirts are somewhat like the skirts of lehengas or ghagras. However these lightweight ethnic skirts are in trend for casual wear. They can be worn anytime and anywhere in style. With time, these skirts have evolved and have mingled with contemporary and modern themes. They can be simply worn with white formal or casual shirt, ethnic crop top or simple western crop top in the colour of black or white. They come in different colours, prints, style and length.
10. Ethnic Gowns
Fusion of both Indian and western style, these gowns are also known as Indo-western gowns. These gowns are a fusion of tradition and modernity. Basically the western gowns are given an upgrade with Indian style and culture. With heavily embellished traditional and embroidery work, these outfits get an Indian taste. Paired with modern accessories, it will give a gorgeous, glamorous and slay look to a woman.
Summing Up
Indian dresses are royal and sophisticated in nature. Be it anarkali suits or salwar suits or traditional or designer sarees, with time, they keep on evolving and always come up with new and fresh motifs, themes and designs.       
Apart from this, if you are interested to know more about enjoy dressing with fancy Dresses then visit our Fashion category