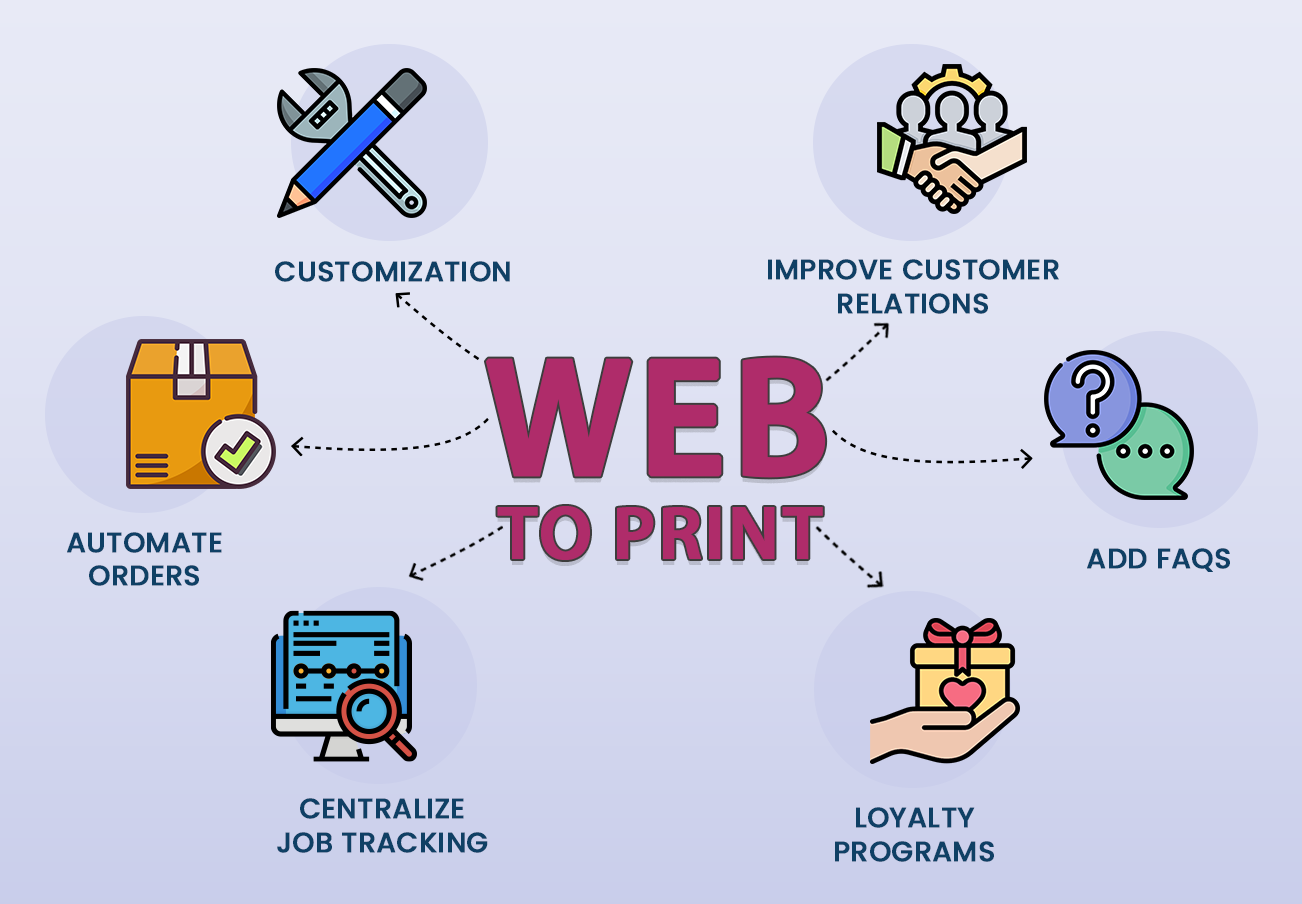 Tech
9 Solid Ways to Make Your Web to Print Software Customer Centric
Print industry has undergone tremendous changes in the past few decades. The Internet and digitization are the major factors that are driving this massive transformation. This has given birth to the new phenomenon in the form of Web to Print solutions. Print industries are using Web to Print solutions to grow their print businesses by many folds.
There is no doubt that the Web to Print solution is a boon for print owners. But, what about the customers? Does it have anything for them? Because at the end of the day if the customers are not happy, then it won't be possible for any of the print businesses to grow continuously. To ensure your Web to Print solution is delivering good customer experience, you must make it customer centric. But how can you do that? Here, we have mentioned the top 9 ways you can make your Web to Print solution customer centric.
Give Your Customers the Power of Customization
"Customer is the King", I am sure we have heard this for the umpteenth time. However, it is also true that this king mostly had restricted powers when it came to buying their favorite products. Customers usually have to buy what the seller has to offer to them. However, in recent years, the phenomenon of customization has changed the game forever. Today customers want to customize most of their products. According to ComCap, 36% of customers want personalization by default. This means that if you offer customization options in your Web to Print software then you can enhance your customers' experience to a great extent. This move will surely make your web to print software customer centric since it is empowering customers to customize their products the way they want.
Automate Order and Delivery
One great way of enhancing customer experience is to make your services available round-the-clock. With the help of a web to print solution, you can receive orders 24×7. It also helps you to take the first step toward a lights-out manufacturing workflow. This approach helps reduce costs associated with extensive order management. W2P basically automates orders and enables jobs to be routed on the basis of factors like finishing types, print dimensions, quantity, and rush job requirements.
Centralize Job Tracking and Reporting
Web-to-Print enables a centralized job administration along with a tracking status during any point in the process. It can also generate reports like peak order times, number/type of orders, shipping, in-stock inventory, turnaround times, etc. These data offer critical insights that help you to make better decisions for improving customer satisfaction.
Increase Operational Hours and Expands Geographical Reach
Web-to-Print solutions enable your customers to order 24×7 from any part of the world via the internet. Although, these solutions are generally associated with a digital printing system; however, a web-to-print solution can be used by you to offer promotional items, offset printing, marketing campaigns, kitting & fulfillment.
Improve Customer Relations With W2P Solution
You can offer personalized service even without a dedicated personnel. For this, you need to automate the workflow steps with customer notifications. With automated email notifications, you can confirm order receipt, drive clients to the web portal for accepting quotes, forward soft-proofs for approval, and notify order printing along with shipment status and expected delivery. Moreover, you can upsell and target suggested add-ons with the help of critical data on shopping habits and history. You can obtain these data by integrating buyer information through customer communication management systems.
Manage and Fulfill Your Customers' Expectations
Web-to-Print software empowers you to manage and fulfills all your customers' expectations. You can do this by displaying key information on your website. Here, it is important that you mention the expected delivery time. You can also include shipping policy information that helps customers to understand it in a better way. This also resolves all minor queries of customers before they make any order. Establishing such communications is vital for your print business as it enhances loyalty towards your brand.
This approach will help you offer a realistic experience to your customers. Offering such information cuts the number of complaints and negative feedback from customers.
Add FAQs
It is quite possible that a customer has a lot of questions while they scroll through your website. It might not be possible for you to identify and answer all those questions. However, it is quite possible to draft a list of common questions. This list of common questions along with the answers will act as a useful tool that can resolve common doubts, increasing customer satisfaction.
Loyalty Programs
Loyalty programs are a tried and tested way to retain consumers across industries and print business is no exception. These programs make consumers feel valued. It helps them to stay with your brand for longer.
Here, you are giving something extra that encourages the customer to place an order. This results in increased customer experience. There are several types of loyalty programs that you can use. For example, promos, birthday/anniversary discounts, gifts for social media shares, referrals, giveaways, etc.
Ensure Customers Are Able to Reach a Live Person Quickly
There are many customers who prefer to check the job status by themselves. If they face any problem then they would prefer communicating via online chat or email. However, in case they are not able to reach your support reps then it will result in poor customer experience, making them irritated and frustrated. This is why it is imperative that your customers know how to reach your customer support rep quickly via any medium. This is quite crucial because whenever there is a complex problem, customers prefer it be solved with more human communications and a personalized approach.
Conclusion
It is 2022, and it has become a common knowledge in the print industry that a Web to Print solution is the way to establish your print business as a printing behemoth. In such a scenario, making your web to print software customer centric can be a great differentiator. It can allow you to stand apart from the crowd. Additionally, it is obvious that with a customer centric Web to Print solution, you will enhance the customer experience and hence the overall productivity and revenue. So, what are you waiting for, make your Web to Print solution customer centric by following the above mentioned tips.