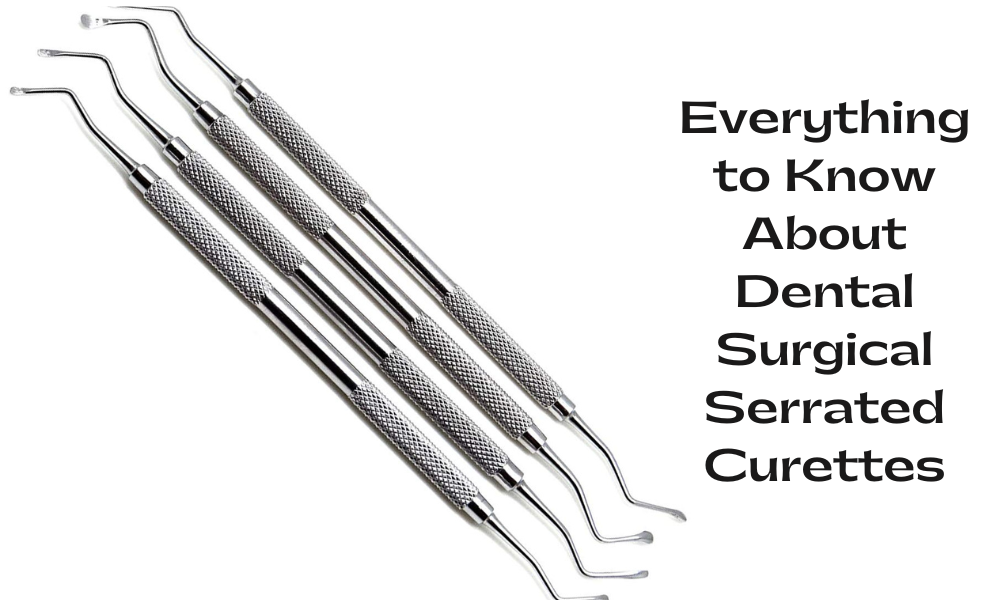 Health
Everything to Know About Dental Surgical Serrated Curettes
Every dental professional must be familiar with the basic dentistry equipment required to ensure optimal oral health care to patients.
Instruments like serrated surgical curette are necessary for all oral healthcare treatments. In dental surgery, these are used to scrape away plaque or cavities from tissues or teeth.
Sometimes, a problem like calculus arises on teeth surfaces that make them look pale or result in poor oral hygiene. This is mainly the situation where this handheld equipment is used by oral care hygienists. Also, surgical serrated curettes assist dental professionals in tooth scaling, implanting, and root-planing.
Overall, without curettes, no hygienist can guarantee that a patient's mouth is clean and have a healthy smile.
Significance of Dental Surgical Curettes in Dentistry
As discussed, gingivitis or any other disease diagnosed by the dentists in the patient's mouth is treated using a curette. Usually, such tooth problems occur due to poor hygiene and tartar buildup. Hence, a surgical curette comes as a necessary hand instrument for reducing the microbes in the mouth that cause inflammation. The reason to use such handpieces is diseases like gingivitis left unaddressed result in severe gum bleeding or swelling. Also, not getting rid of the cavity buildups turns into a disease called periodontitis.
Dental Curette Functions
There are multiple uses of dental curettes. The reason is that it has new, improved features. Thus, assisting the dental surgeons perform the procedures like root planing more efficiently and safely.
The curettes reduce the patient's waiting time and the possibility of oral damage
They conveniently remove the plaque and tartar while also taking care of the tooth problems
Besides removing damaged or decayed tooth roots and periodontal fibers, dental experts also undertake sensitive tissue incisions
It helps in the elimination of the periodontal pocket's soft tissue lining
This handheld dentistry equipment either has sharp blade tips or dull ones. One of amongst can be chosen as per the need for dental procedure performance. Additionally, surgical dental curette can be helpful in both diagnosing oral hygiene issues and performing dental surgeries if used safely.
Types of Surgical Serrated Curette
Understanding the construction and layout of dental curettes is necessary. Additionally, the type and size must be identified following the dental surgery that will be carried out.
For this, know the major types of this handheld equipment.
Universal Curette
Universal curettes comprise identical counterparts. These include shanks and blades. Moreover, it ensures the dental surgeons feel comfortable holding a grip and using the tool when treating the dental calculus issue.
There are most cases when getting rid of the tooth surface plaque becomes challenging. The reason is the continuous deposition of calculus on the tooth and not scaled or treated timely. At such a point in time, cleaning seems of no use. Also, the teeth have lost their natural enamel color and coating.
Therefore, the shank of universal curettes is angled at a 90-degree. It makes it possible to access plaque-filled tooth areas that are difficult to reach. Thus, enabling the dentists to do the scaling treatment effectively.
Gracey Curette
An area-specific dental tool is the Gracey curette. This curette's blades are offset at an angle, typically at a 70-degree angle. By having a clear view of the mouth area that has to be addressed, the surgery is guaranteed to be faultless. According to different design and size needs, more Gracey curette sorts are also available. These feature long shanks and pointed working ends.
Gracey curettes are also curved from the flank and from the toe to the shank. Furthermore, when cleaning or sharpening this instrument, the dental surgeon needs to maintain this curve.
Things to Consider When Buying Dental Surgical Curette
Handle Grip and Shape
The tools like the curette in the dental instrument kit must have a solid and comfortable grip with the handle. This will ensure no extra effort is required or pressure is put on the hands or arms of the dental surgeons. Thus, ensuring dentists provide safe and effective treatment to the patients. Even the different curette shapes have different applications in the dentistry field and depict their functionality.
Adjustable Handle Designs
The surgical curettes are instruments with handles that range in shape from flat to serrated. Remember that the tool design plays a vital role in the diagnosis of oral health problems and the execution of dental treatment.
Made From Good Quality Material
Dental curette tools' quality is vital. The performance of dental instruments is improved if made from premium grade, strong, and long-lasting metals like German stainless steel, etc.
Conclusion
To conclude, these are some of the major and essential things every dentistry practitioner must be aware of. Knowing everything from types to purpose and functioning helps the dentists choose the ideal curette and deliver the patients with satisfactory treatment. Thus, enabling to accommodate several surgical issues and improving the practice's reputation.
Thanks for Reading!!