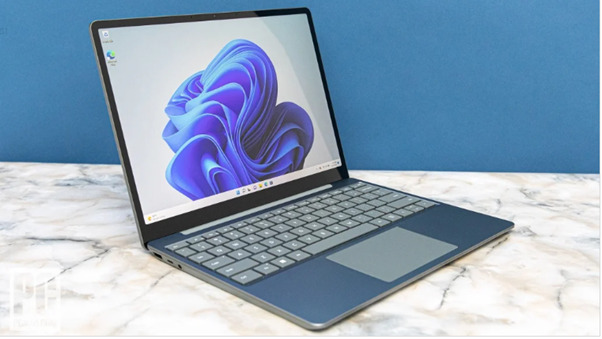 Microsoft Surface Laptop Go 2 has filled nearly every possible price and size point in the Surface line. As the name suggests, the original Surface Laptop Go combined the DNA of the petite Surface Go detachable and the traditional Surface Laptop.
Consider it a good compromise computer. Microsoft has updated its in-between portable, the Laptop Go, which sits between its small Surface Go 3 tablet and the traditional Surface Laptop 4. The Surface Laptop Go 2 (starting at $599.99; $799.99 as tested) is a minor update to the original, with the processor replaced with a faster Intel 11th Generation chip and a few components tweaked. This Microsoft mini is more stylish and well-made than many of its cheaper competitors, thanks to features such as a 3:2 aspect-ratio display (rare on budget laptops).
The lovely new sage green color is the first thing you notice about our review unit (though it's less visible in our photos than in person). It's one of four color options (the others are ice blue, sandstone, and platinum), and its design is very Apple-like, as Surface devices have always represented Windows alternatives to the MacBook and iPad concepts.
The Microsoft Surface Laptop Go 2 is the same size and weight as the original, measuring 0.62 by 11 by 8.1 inches and weighing 2.48 pounds.
REAL ALSO: Clevo nh70
The bottom section feels more like plastic than metal, but it's not cheap or flimsy. Despite its low price, the Microsoft Surface Laptop Go 2 provides a near-premium experience due to its size and materials.
The PixelSense screen's resolution, 1,536 by 1,024 pixels, falls short of full HD. Based on the pixel count, I assumed it would be close enough to full HD or 1080p.
The screen supports touch and is reasonably bright at its maximum brightness, so it's not a total loss. On average, its color and quality are adequate, but as I write this, I must admit that the text in Google Docs isn't razor-sharp.
Fingerprints, Cameras, and Connectivity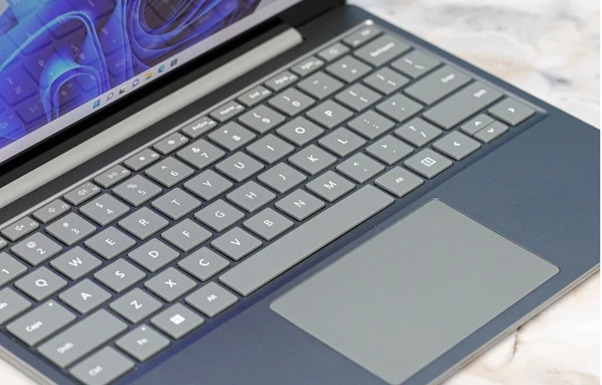 Fingerprints
FingerPrint integrated the power button.Because the webcam lacks IR face recognition, fingerprints are the only way to use Windows Hello, but at this price, that's acceptable. Microsoft improved the sensor for today's video-call culture and added dual-field microphones to improve the conferencing experience.
Cameras
The video quality of the webcam is adequate, but its low resolution is noticeable, and it does not perform well in low light. Many much more expensive laptops still have 720p cameras, but a sharper webcam would have been excellent.
Connectivity
One USB 3.2 Type-A port
one USB Type-C port
One headphone jack for connectivity
Chargr connector used on the right side of the laptop.This model also has the same loadout as the previous one. The lack of an HDMI port to connect an external monitor is disappointing.
Another new feature is that the Microsoft Surface Laptop Go 2 is Microsoft's first secured-core Intel PC with Trusted Platform Module (TPM) 2.0 support. That may appeal to business customers, and Microsoft has published a blog post(Opens in a new window) outlining the benefits to IT departments.
Microsoft Surface Laptop Go 2: Configuration Options
Despite the minor revisions, new processor, and generally rising PC costs, Microsoft has kept the Surface Laptop Go 2's starting price relatively close to the original. The base model has increased by $50 to $599.99, which is no longer in the extreme-value range but remains well under four figures. Let's take a look at the various configurations.
The base model is relatively basic, with a quad-core Intel Core i5-1135G7 CPU, 4GB of memory, and a 128GB solid-state drive. It is only available in platinum. Another $100 gets you the middle model, which increases memory to 8GB and allows you to select other colors. Finally, an additional $100 increase (to $799.99) doubles the SSD storage to 256GB. It is the model under consideration.
Microsoft Surface Laptop Go 2 Testing: Smooth Sailing (Among Budget Laptops)
We ran our standard benchmark suite on the Surface Laptop Go 2, comparing its results to those of the following systems:

Productivity Test scores
UL's PCMark 10's leading benchmark simulates a variety of real-world productivity and content-creation workflows to measure overall performance for office-centric tasks like word processing, spreadsheets, web browsing, and videoconferencing. We also run PCMark 10's Full System Drive test to evaluate a laptop's storage load time and throughput.
REAL ALSO: Clevo pa71
Puget Systems' PugetBench for Photoshop, which uses Creative Cloud version 22 of Adobe's famous image editor to rate a PC's performance for content creation and multimedia applications, is our final productivity test.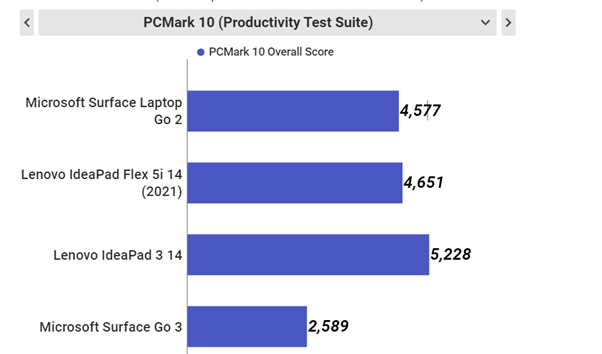 Graphics and Gaming Reviews
We tested Windows PC graphics using two DirectX 12 gaming simulations from UL's 3DMark: Night Raid and Time Spy . Two more GFXBench 5.0 tests, run offscreen to accommodate different display resolutions, wring out OpenGL operations.
Battery and display test scores
We test laptop battery life by playing a locally stored 720p video file at 50% display brightness and 100% audio volume until the system shuts down. The battery change full before the testing. The wifi anf keyboard back light in turned off also.
REAL ASLO: Vehicle Wraps and Advertising
A Minor Improvement for 2022
The Microsoft Surface Laptop Go 2 is a marginal improvement over its predecessor, with few significant changes. The faster processor is the most significant by minor improvements to the webcam.
Otherwise, it's the same nice budget notebook we saw before, which isn't necessarily bad.They build in many other premium body and many rang price.
The starting price is reasonable (even our bumped-up configuration is reasonable). There are some flaws, but that is true of any laptop at this price. If the Microsoft Surface Laptop Go 2 fits your budget. You like the extra bit of style, it could be one of your best budget buys.
Microsoft Surface Laptop G0 2 Pros and Cons
PROS
Competitive performance big props to an updated CPU
Stylish and colorful design
High-quality construction and a comfortable keyboard
Affordably priced
Swappable SSD and chassis parts for increased longevity
CONS
Display less than 1080p with nonstandard resolution
An updated (but still mediocre) webcam