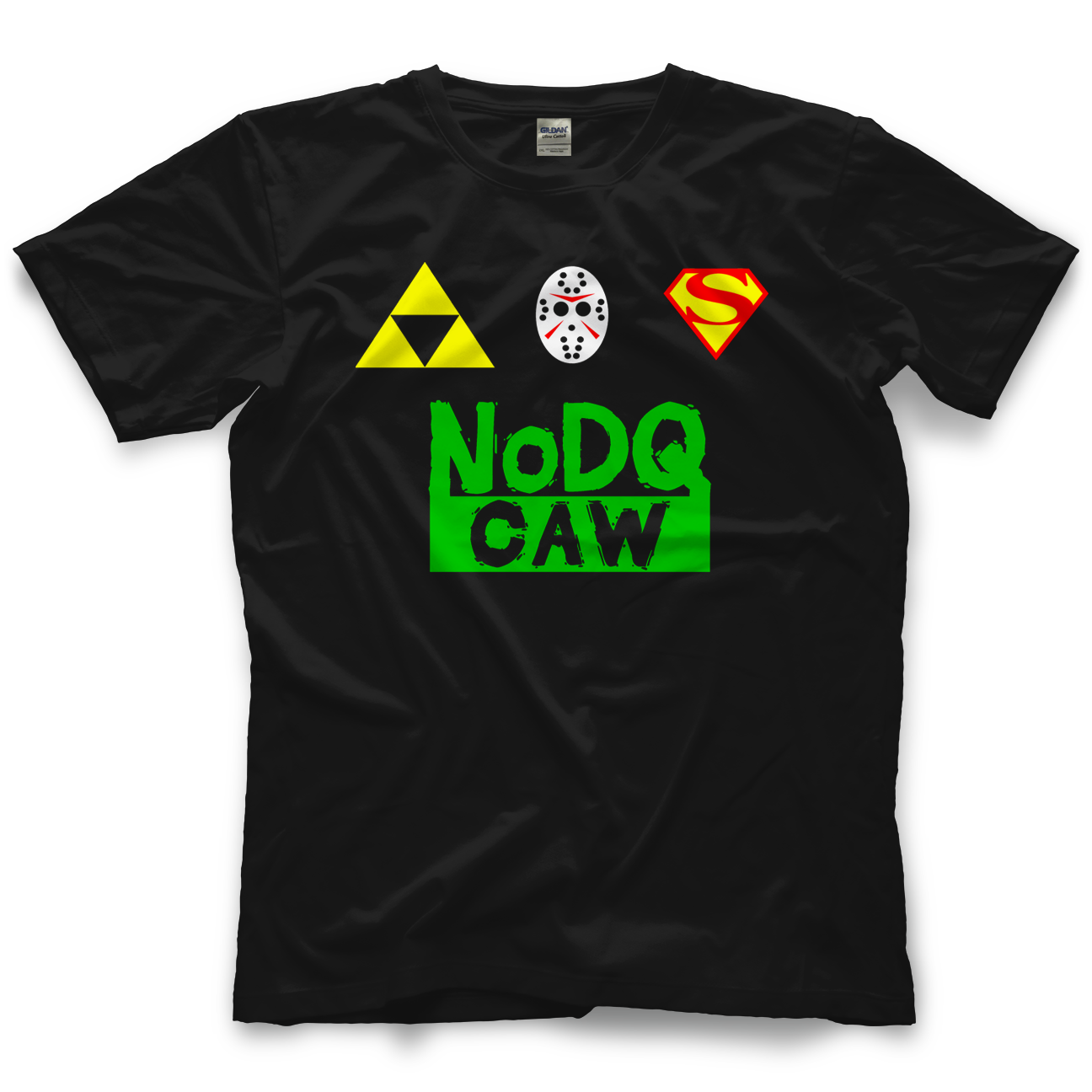 NoDQ CAW
The NoDQ CAW League was created by Aaron Rift and is considered the second of its kind (second only to Wade Needham's Slam 'n' Jam) and regarded highly by CAW fans and league producers. From February 2004 through May 2007, it was revived once for one night in August 2009, primarily using WWE WrestleMania XIX and WWE Day of Reckoning for the shows.
The NoDQ CAW has had a significant impact on CAW wrestling, which has led to several CAW leagues and YouTube channels and continues to engender a strong following.
Popular seasons of NoDQ Caw
Season 1 of NoDQ
The debut of Conehead would take place in match 11 against Jason Voorhees, the former NoDQ CAW Champion. Conehead surprised everyone with a strong debut, even putting Jason in a side headlock at one point. While delivering his Power of the Punch finisher, Conehead didn't realize he was using brass knuckles, so he was immediately disqualified.
As a result, he would lose the match for the first time. In Season 1, Jason demanded a rematch against Conehead as he defended the NoDQ CAW Championship he'd won the previous season. Jason's Clothesline and Crystal Lake Slap ended Conehead's chances of holding the NoDQ CAW Championship and eliminated any chance he might have had.
Season 5 of NoDQ
Bobby Spade's joke of a match with Freddy Krueger on NoDQ Eastern's first episode reintroduced Conehead to NoDQ CAW in Season 5. Having known Conehead would not challenge Freddy, Bobby effectively gave him victory. The result was Freddy's easy victory over Conehead. In the following episode, Conehead teamed up with T-1000 to defeat the Terminator.
To pin Terminator, Bobby threatened to fire him should he lose another match and intended to soften him up with a T-1000. Bobby loses the game when T-1000 and Conehead both fall to a Terminator Clothesline that the Terminator uses to pin Conehead.
The eighth episode of NoDQ Eastern included a Gauntlet Match for Freddy. Having been beaten by Lex Luger in round two and softened up by Batman in round one, Freddy was vulnerable in the third round. Conehead won a NoDQ chance to face Freddy in the CAW Championship simply by pinning him. A Triple Threat Match was held on the next episode between Conehead and Luger against Freddy.
The Iron Claw of Freddy made Conehead unplayable in the match and prevented him from winning. As part of NoDQ Eastern's fifteenth episode, fans could vote on a match stipulation that would have the Terminator lay down for Conehead if the Joker won. Although this result received 33% of the votes, it did not win since 34% of the votes went to the winning option.
Season 6 of NoDQ
During Spring Cleaning, Conehead participated in the 10-Man Royal Rumble Match to determine a new NoDQ CAW Champion. Conehead entered the match as the third participant and was immediately eliminated by Jason Voorhees.
Season 8 of NoDQ
A bodyslam defeat was Conehead's victory over Spider-Man on the Road to Box Office Smash 5! A prankster disguised himself as Spider-Man – "Spider-Man" turned out to be the Joker. A mistaken Spider-Man attempted to attack Conehead, but the true Spider-Man stopped him from pursuing the Joker.
He enlisted Al Snow's assistance to learn wrestling after becoming frustrated with his defeats. The NoDQ CAW's Main Event 2 featured Conehead training in the ring with Snow. To Snow's dismay, Conehead turned out to be a mediocre wrestler. During NoDQ CAW's Main Event 3, there was a training montage showing Conehead improving. Nevertheless, Snow's victory over Conehead at The Road to Ringside Wars proved to be in vain.
The Road to Born With Rage 3 would be the scene of a collision between Conehead and Luigi. Luigi took out his fury on Conehead to win the match because he was motivated and felt he had something to prove. During the Terminator's upcoming game with Captain Jack Sparrow, Conehead did not fare well against the Terminator in a "tune-up match." Conehead was relegated to the back after losing to the Terminator in a predictable fight.
NoDQ CAW's Main Event 6 included a training montage in which Rocky trained Conehead. At The Road to Title Haunt 3, Conehead and Rocky Balboa faced the Serial Killers II to determine who would become the new #1 contenders. The match was the first time Conehead had shown resiliency in a long time, kicking out at two when Michael Myers pinned him. Once again, Conehead was held down by a 10/31.
NoDQ caw In-ring style
Despite his aggressive streak in earlier matches, he tends to be entirely inept in the ring, bordering on uselessness. Aaron Rift, on commentary, was stunned at one point after Conehead successfully performed a wrestling move. Most of Conehead's opponents do not take him seriously because he is neither solid nor intimidating.
In a gauntlet match against Freddy Krueger, Conehead only managed to win one singles match. Krueger had lost to Lex Luger shortly before Conehead entered the game, meaning Conehead did not work for the win.
The fact that Conehead is utterly clueless as a performer generally does not detract from the fact that he is a friendly and determined individual. Despite his best efforts, he isn't good enough in a match. A losing streak caused Conehead to feel quite disheartened during Season 8, even getting suicidal at one point. However, Santa Claus helped him realize his unique qualities, giving him his spark back.
Conclusion
There is no doubt that NoDQ CAW has left a lasting impression on the CAW community. In its position as the premiere show on its forum, NoDQ CAW contributed to the establishment of CAW as an entertainment form. In multiple leagues, NoDQ CAW superstars like Jason Voorhees, Mario, Luigi, Link, and Mr. Clean have appeared.
The show inspires many leagues launching four years after NoDQ CAW's last show. Several owners of the most significant companies in CAW have stated that NoDQ CAW inspired them to create their league. Former NoDQ Superstars formed the NoDQ World Order under SCAW, and UWF used its version of some NoDQ titles.
FAQs (Frequently Asked Questions)
Do you think wrestling is a violent sport?
Not at all. Despite its reputation as the most demanding sport, wrestling is by no means violent, nor does it encourage unruly or destructive behavior. Unlike most other sports, wrestling involves head-to-head competition, which makes it so unique.
What is the difficulty level of wrestling?
It requires physical strength, speed, technical skill, and mental toughness to succeed at the highest levels of wrestling, making it one of the most challenging sports to compete in.