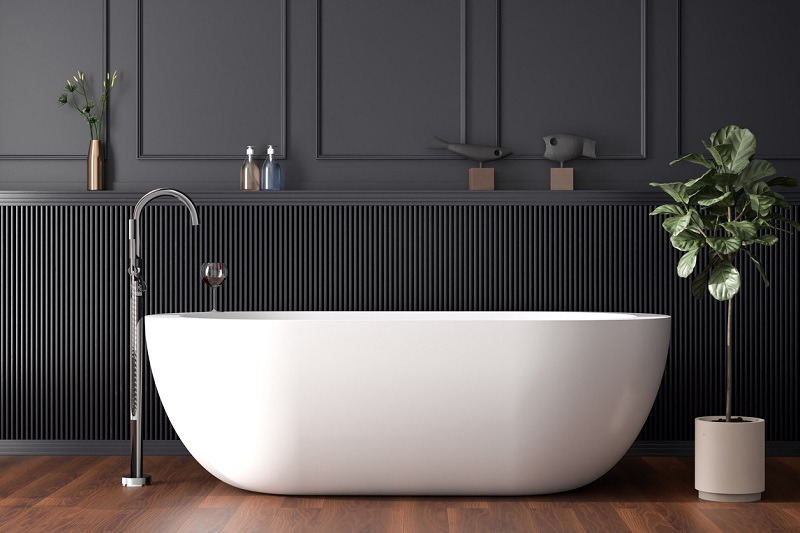 Some people believe freestanding bathtubs are desirable and look great in contemporary and traditional settings. This has contributed to their meteoric rise in popularity over the past few years. Many people include them in luxurious bathroom makeovers, as they create a bold design statement in a space. They are available in such an astonishing range of shapes and sizes, allowing you to tailor the look of your bathroom to your exact specifications.
A bathtub is a component in your bathroom that gets used the most; you must select the one you like. Consider purchasing a freestanding bathtub for your bathroom if you want to make it look more elegant. This bathtub is available in a wide variety of hues and patterns, and it has the potential to give the space an original appearance. Even though it requires more space than a built-in tub, a freestanding tub has several advantages that make it well worth the extra space. The following is a list of seven advantages of freestanding bathtubs:
Flexibility
Flexibility is a significant advantage that comes with having a standalone tub. Freestanding tubs may be installed virtually anywhere, in contrast to built-in tubs, which are restricted to being installed only against the walls of a bathroom. If your bathroom is large enough, you might even be able to fit the tub smack dab in the centre of the room.
Unique presentation
The fact that a freestanding bathtub makes a statement is something that can't be denied about this type of tub. When acquaintances and family visit your home, the bathtub is the first thing they will notice when they enter the bathroom. Because of the prevalence of bathtubs, a freestanding tub in your bathroom will help it stand out, particularly if positioned in the middle of the space.
Many distinct hues, patterns, and patterns
Because freestanding tubs are available in a wide range of hues and patterns, selecting one that complements your bathroom style should not be difficult. You might want to consider purchasing a model with a pedestal, for instance, if you want to keep your bathtub off the floor. On the other hand, choosing a clawfoot double-slipper type might suit the antique or vintage decor.
Numerous types of materials
When it comes to freestanding tubs, you have a wide variety of materials from which you can select. For example, a tub made of cast iron is extremely long-lasting and may be used for decades. If your bathroom floor is strong enough to hold much weight, you should consider purchasing a stone tub since it is daring and will lend an original touch to the space.
A dash of the past
The standalone tub will win you if you like traditional aesthetics and are a furnishings fan. The design may give the impression that you have travelled through time by giving your bathroom a vintage feel and an antique appeal.
Displays the ceramic tile
You have an additional justification for purchasing a standalone tub if you are pleased with the tile work in your bathroom. Because it is elevated off the floor, this tub allows you to display more of your tiling.
The illusion of additional available space
Although a freestanding tub takes up more space than a built-in tub, your bathroom will not have the appearance of being smaller as a result. Installing one of these tubs might create the impression that there is more room than there is. The open space underneath the bathtub can give the impression that the bathroom is bigger than it is.