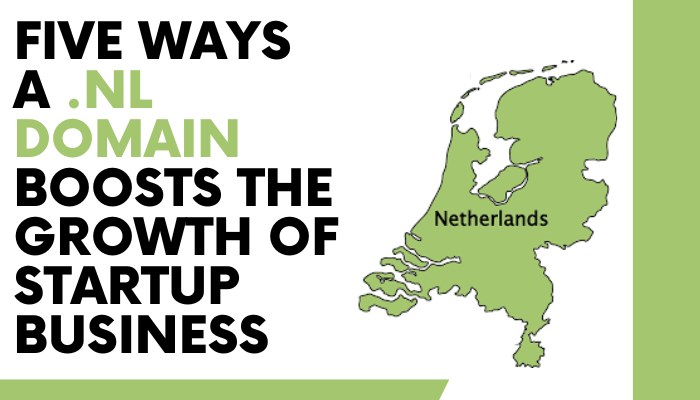 Tech
Five Ways a .nl Domain Boosts The Growth of Startup Business
For websites, a Domain name is one of the impotant factors. In many ways, they can create an effect on a startup business. A domain name is the identity of the website. Users can search your websites on the search engines with the help of a Domain name so make sure the domain is short, simple, and memorable. If you choose a domain name that is hard to pronounce then users face a lot of difficulties in speaking or memorizing so choose that domain name that is memorable and easy to talk.
Choosing a domain name for the website is such an important and challenging task. A domain name is chosen according to the country based and target audience. If your website is Netherland based and you targeted Netherlands people then the best decision is to choose a .nl Domain. It is a Country Code Top level domain. Domain .nl is boosted the growth of startup businesses. We'll explore ways that .nl suffix can help your startup gain authority and grow.
Five Ways That .nl Domain Name Can Help Startups Grow
Make Your Website Look Official
The domain name is the most essential element of your business's brand. A domain name is the first element of a website that a user can notice. Domain names are also used in other mediums such as social media profiles and advertisements, so they need to look professional and official. The user should be able to connect with it on an emotional level, and it should sound natural.
When you choose a .nl domain then users can easy to remember. Easy to pronounceable and short (people cannot type more in the search engine).
Help You in Target The Netherland Audience
In most cases, when someone is searching for something online, they want to find the best option as soon as possible. When you add the keywords related to the business and industry in the domain name then they can help this. The name of your domain should be SEO-friendly in addition to optimizing your content so it's easily found on search engines. So we can say that to target the Netherland users the best and most suitable option is to choose a .nl domain name. Netherland users feel secure with .nl extension website. At the time of online shopping thay mostly prefer the .nl extension website.
.nl Domain Creates a Credibility For Your Business
Domain .nl is a professional extension and looks official also creates credibility for the business. A .nl suffix will help to create trust in the hearts of the Netherland people. In the domain name when there are no grammatical mistakes and misspellings in your web address it will help in building a brand identity. If someone sees a product or service on another website but is unsure if it's legit, then having an official-looking URL will put them at ease about placing their order.
Improve Your SEO With The Help of .nl Domain Registration
In the digital marketing strategy, SEO is one of the important factors. SEO is a long-term and complicated process that includes many elements and one is Domain name also an important element. So choose a domain carefully this will affect SEO ranking.
In the local search engine results pages, there are high chances that search engines rank the .nl domain websites because this is a Netherland Country Code Top Level domain. And you definitely know that users click on the 10 Results page only. If your website is under 10 results then there will be a high chance that users go through your website and these users are converted into a customer.
Build Authority in Your Niche
"People buy brands, not products," is a saying you've probably heard before. And it's true. Brand names are more trusted than individual products when it comes to purchasing a product or service that why companies invest more money in marketing and branding every year. In the eyes of potential customers and partners, a .nl domain creates a positive image of your business.
Conclusion
For a company's branding and marketing domain name is important. That is why people take the time and do the proper research for buying a domain name. When you register your websites with .nl then it will help in creating trust with new customers. If users find more information about the business then with the Help of a domain name they will find out. So make sure that the domain name is short, simple and easy to memorize, and pronounceable. For this a ..nl domain is the best suitable option.
Also Read: How To Promote Your Content On Facebook