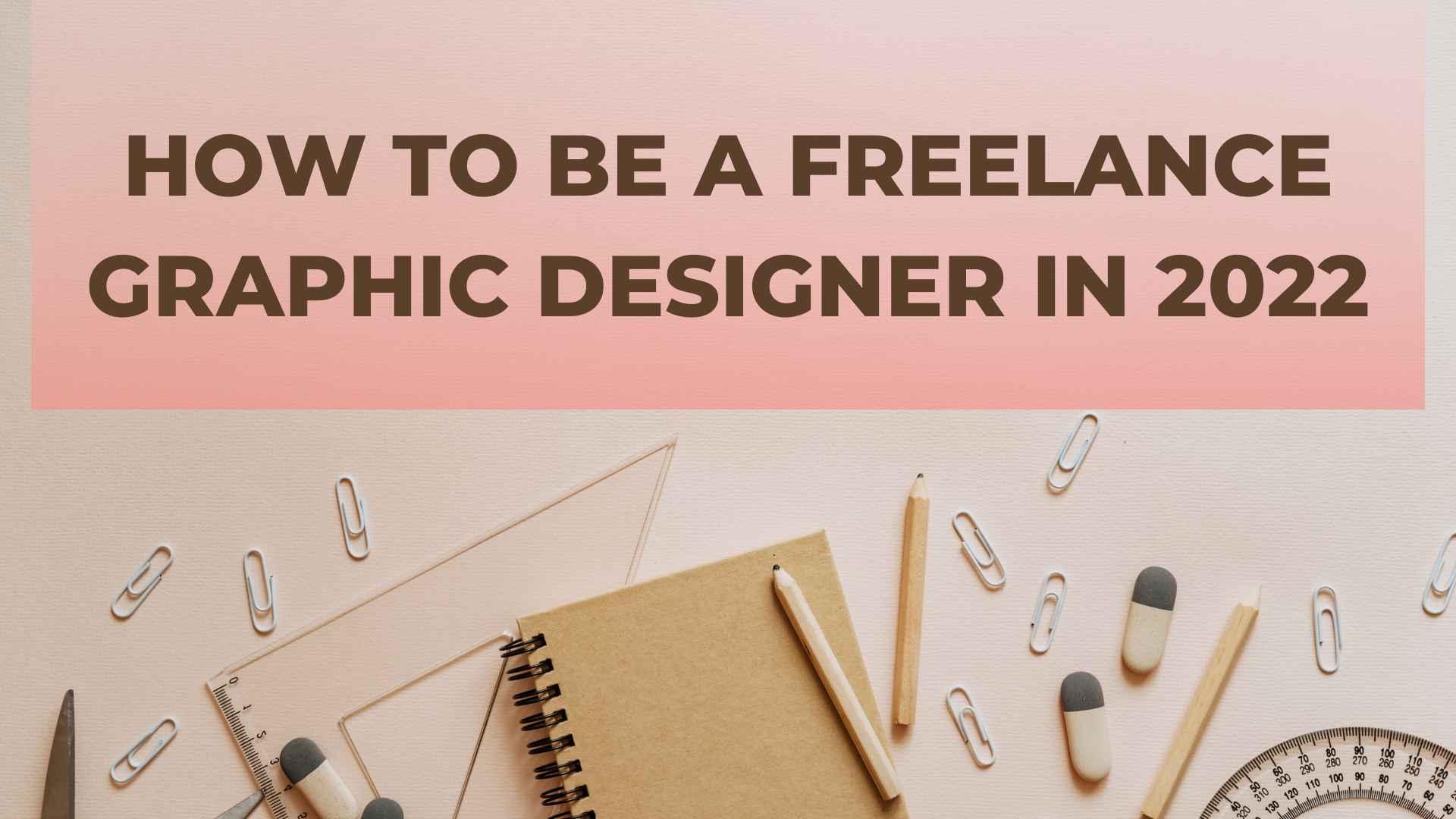 Business
How To Be A Freelance Graphic Designer In 2023
As of 2022, it hit us with a lot of unforeseen circumstances such as unemployment. This resulted in the boom of freelancers in a plethora of fields. Parallelly, due to the rise in demand for visual content, graphic design and graphic designers also became extremely sought after.
Who is a freelance graphic designer?
A freelance graphic designer is someone who offers your visual marketing materials and all graphic design materials including posts, vector images, logos, designs, templates for brochures, presentations, banners, and other graphic design related marketing materials!
How do you become a GOOD freelance graphic designer?
We live with the world in our pockets. Literally. Here are some quick, on-the-go routes that'll get you kickstarted on your freelance graphic design business and enable you to get an in depth understanding of all things graphic design related!
Online courses
We acquiesce online courses can be a drag on occasion. However, if you can skim through a few videos and grasp the content, they can be extremely informative. Websites such as Udemy, Skillshare and Alison Online give you access to hundreds of learning resources, video materials and tips from professionals in the field.
Watch tutorials on YouTube – It's time to make bingeing useful!
There isn't a thing you cannot find and master through YouTube. Although you might not be able to master graphic design through just video watching, it certainly will help when you're stuck or need some visual clarification. Sometimes, watching and identify graphic design channels that pertain to your style of graphic design and subscribe to them.
Make a list of all the "in" software's used by graphic designers in the market.
There are several software's and graphic design tools for graphic design in the market today. Most of them are good and the rest of them, well, meh. And some of them are classic. (Adobe Photoshop, Adobe Illustrator, Adobe After Effects and so on) However, you might acquire a flair in any of the mentioned design software's or you might perform better with a new and unknown software, too. Some clients are strict about using the mainstream software's for file transfer purposes but most of them just expect a good output irrespective of the software used or file type. Some of the most successful freelance graphic designers swear by these software's and key graphic design tools! Do some research, take trial packs and make sure you can also operate on the mainstream software's but never restrict yourself when it comes to creativity!
Explore with the color palettes you are comfortable with
Exploring color palettes that you work well with are an important aspect of graphic designing. Using colors you work best with will be useful for personal projects, passion projects, freelance work, graphic design jobs and building of your portfolio. It could even help you carve a niche and set a signature for yourself. This process is solely to identify your style of working. Of course, the client's color requirements might differ from your comfort palette, but it sure helps to give suggestions when you know your colors.
Create multiple iterations of a piece
One of the most paramount qualities of a graphic designer. Clients can often be picky and extremely indecisive when it comes to picking a design for their business and business accounts. For this very reason amongst others, it is important to practice many iterations of the same piece. These iterations should contain noticeable changes such as color options, font options in each design and moderately change the entire look of the piece. It can also help to display multiple iterations of a project in your portfolio to attract potential clients.
Carving a niche for yourself
In any field, creating a niche for yourself is what sets you apart from the competition. Whether you are looking to build a strong portfolio or become self-employed, you need to establish a style or work that is unique to you. This could also be an avenue to strike an impression with potential clients. Be it a certain style of art, usage of colors, your ability to create intricate designs, or expertise in particular graphic design software or design tools, it is pivotal to establish a sense of individuality to enable others to easily identify what makes you stand apart from the crowd and in turn pick the design services you offer.
Practice, practice, and some more practice.
We aren't going to say cliche quotes such as "Practice makes a man perfect." but we certainly cannot argue against it. Make sure to practice your graphic design skills everyday in order to gain expertise and never lose touch. Go through your graphic design course once again. Creativity is an endless cave of possibilities; you almost never know when you might churn out a stunning creative idea. Make it a point to complete a certain number of graphic design projects per day or design a number of creatives each day to keep your productivity up.
Here are some of the freelance graphic designing websites in the market:
Upwork
Upwork is not just a freelance graphic design website but your go-to for hiring a freelancer for any given requirement. They enables you to post the job requirement you are looking for and proceeds to connect you to freelancers all over the world who can provide you with their expertise. You can check their prior work, experience, portfolios and more before deciding.
Freelancer
Freelancer helps you find freelancers from all over the world within minutes of uploading a project. You will receive competitive bids and you can pick the best fitting freelancer for your project. Freelancer also lets you pay securely using a Milestone Payment scheme wherein you release payments only after utmost satisfaction with the completed project/projects.
Fiverr
Fiverr is one of the top freelance service finders that offer you access to a variety of ad catalogs that neatly display all the verified and trusted talent available to collaborate with on Fiverr. You can find high quality services for every price point and pick the right freelancer within minutes of catalog browsing. All their payments are protected and enable you to pay the amount only after the project has been delivered without any inhibitions.
People Per Hour
People Per Hour is another outstanding freelance service finder that uses an efficient artificial intelligence system to connect you with the apt freelancer for the services you seek. Allowing each freelancer to reply with their own tailored proposal, all you must do is pay a small deposit to get the project started. You can refine your search in People Per Hour by skill, price point, location, and hourly rates.
All Time Design
Looking exclusively for stellar, remote graphic design services? Let All Time Design make a remote design work for you. All Time Design has offers you freelance graphic design services on a subscription basis. A quick turnaround time of 24-48 hours, unlimited designs at a flat fee, professional freelance graphic designers at your service and constant communication are only a fraction of the perks offered by All Time Design. If you are looking primarily to hire graphic designers, then All Time Design is the place for you.
Why All Time Design?
No hidden costs.
Full ownership of the designs.
Unlimited revisions and iterations.
Conclusion
In a nutshell, we're sure you already know about the immense importance of graphic design in every business. The best way to put across your identity, brand message and ideas are through graphic design. Save yourself the trouble of hiring a freelancer, explaining your distinct requirements and opt for All Time Design's subscription based graphic design services. Head on over to our website to further knowing into All Time Design!
Apart from this, if you are interested to know more about The Best Construction Accountants in New York then visit our Business category.