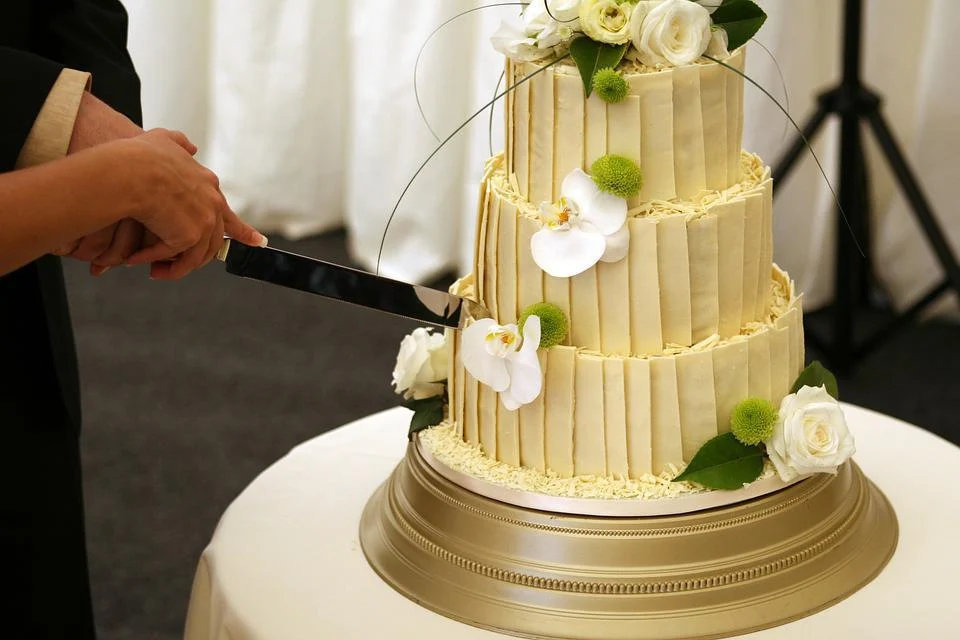 Lifestyle
Some Beautiful Wedding Cake Ideas to Inspire You
Dessert fads come and go, but a stunning, delicious wedding cake will never go out of style. A wedding cake should be sweet and beautiful. When it comes to wedding anniversary cakes, our favourites are those that make a bold statement and complement the reception's aesthetic. There is a wedding cake design for any lady, whether she prefers elaborate flower arrangements, simple berries, or gilded details.
There is a plethora of creative leeway in choosing a wedding cake design, allowing you to reflect the wedding's refined aesthetic in your confectionary centerpieces. So, without further ado, they present the top wedding anniversary cake designs that perfectly complement your wedding concept. Do yourself a favour and save your favourite pages as bookmarks!
1. Bow Cakes
A lovely, plain-coloured cake with a gorgeous, ornate bow on top is one of the most elegant cakes we've seen in recent days. They work well for a small, low-key gathering when you want to avoid looking cheap.
2. Cakes with Dry Flowers
It's now cool to decorate cakes with dried and pressed flowers. For a good reason, dried flowers are the most eye-catching fashion trend. They add visual appeal and a delightful aroma to your baked goods. Also, they last longer than fresh flowers, making them a greener option for decorating.
3. Fruity Cakes
In the past, wedding cakes had to be a particular style, but those days are long gone. Among the alternatives currently available to you is a fruity punch. Make a big impression with fresh berries and fruits this winter by layering them in your cakes. As a bonus, this non-traditional take on flower or fondant decorations will make your cake seem stunning.
4. Handpainted Cakes
Wedding cakes don't need white fondant. True cake artistry needs painting in addition to cutting and shaping fondant. Food colouring and tinted buttercream are hand-applied. They complement wedding themes. For a monotone effect, use tiers with painted vines. A two-tier cake covered with monstera leaves and flamingos will fit your destination wedding's vivid colours and tropical feelings. A hand-painted wedding cake is a party-stopper.
5. Lush Sugar Flower Cakes
Wedding cakes don't need fresh flowers. Modern cake art has advanced so much that pastry chefs can create sugar flowers that look virtually real. Handcrafted sugar flowers cost more, but they're worth it when adorning a cake. Sugar flowers won't wilt and won't spoil food like genuine flowers. Find a baker proficient in sugar blooms for a gorgeous wedding cake.
Read Also: wedding venues
6. Mini Cakes
If you like sweets but don't like tiered wedding cakes, choose a smaller cake. Short versions of wedding cakes taste just like the genuine thing, but each guest will only get about the same amount as from a conventional slice. These small confections have endless benefits, but they're the cutest we've ever seen.
7. Rustic Naked Cakes
Naked cakes, or those with minimal icing, are a popular choice for weddings. They're perfect for couples who don't like smothering their cakes in frosting and want a lighter coating.
8. OTT Wedding Cakes That Are Awe-Inspiring
The stunning beauty of some baked goods will make you gape in awe. These over-the-top cakes, no matter how large they are, steal the show at any wedding. You can tell these cakes were made for a big fat Indian wedding just by looking at them!
9. Simple Yet Elegant Wedding Cakes
No matter the size or number of layers, a classic wedding cake is guaranteed to impress. White wedding cakes have been the standard for decades because their understated beauty and timeless elegance make them perfect for any wedding. After all, there are good reasons for their air of sophistication.
10. Some Terrific Single Tiered Cakes
Having a large, three-tiered cake for a small gathering may seem excessive to some, especially with the current trend toward small, intimate weddings. As a result, selecting a cake with only one layer for celebrating a modest event is an excellent choice. Wedding cakes and cupcakes, if you like, are highly flexible, making them unique. No matter how different the groom's and bride's tastes are, there is a magnificent wedding cake idea waiting for them. The wow wedding cake is the sweet and decadent climax, and a well-designed cake can be the crowning achievement of the wedding's aesthetic.